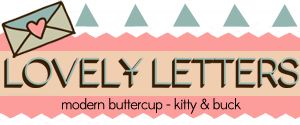 The Lovely Letter Exchange was brought to my attention through
paperedthoughts
blog (which is a lovely blog that everyone should check out!). I decided to sign up for the Lovely Letter Exchange on kind of a whim, hoping it wouldn't be a terrible idea due to my work schedule & not really being able to commit to anything! I think the project is going to be a lot of fun. I really love the idea of having "tasks" for each letter.
The partners were assigned at the beginning of the month and the first task was to send out an introduction letter, including a picture and to make sure the envelope was decorated. Decorating an envelope? Check! Including a picture? Hmmm... This lady had to leave all her photos in Vegas and does not have a printer. Well, luckily my trusty Polaroid camera still had 3 pictures left. Unfortunately, it seems Impossible film does not stand up to the test of time and the picture did not develop properly. I will just have to include a proper picture in my next letter!
The front of this envelope is probably one of my favorites. The only things I really new about my partner was her love of all things mail. Who wouldn't love a postage stamp envelope? I love the illustration of the women typing on the typewriter as well. I think I cut that out of some history book. History books are my favorite to cut up, they usually have the best images and illustrations. I love going to thrift stores and searching for good collage books!
If you didn't get a chance to sign up for the exchange, make sure you check out the blogs that are hosting it!
Modern Buttercup
and
Kitty and Buck
. It is my first time looking at either of these blogs and they are beautiful, great images and inspiration. I could spend an entire day looking through each of them and following links to other blogs! Hopefully if this exchange goes well they will host another? You can also check out the
Flickr
group that was created to see what everyone is up to with their letters!
Our next task comes out October 15th!